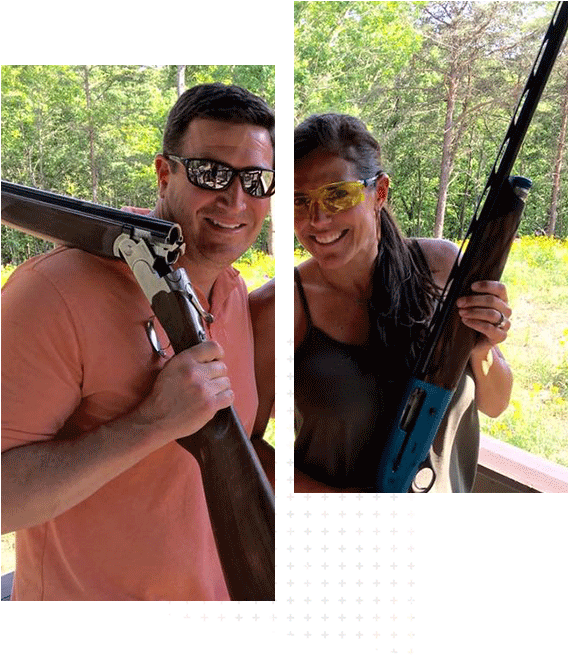 Garland Mountain
Where Friends, Family & Associates Happily Gather To Blast Away At Flying Targets, Complimented By Great Food, Spirit and Hospitality
Nestled within the scenic landscapes of Northwest Cherokee County, Garland Mountain Sporting Clays & Grill invites visitors to embark on an electrifying shooting adventure, all made accessible with Utility-Terrain Vehicles. Whether you are a seasoned shooter or a shotgun novice, our courses boasting breathtaking mountain views offer the perfect environment for a memorable day with friends and loved ones.
If you are new to the world of sporting clays, our proficient instructors are at your service, ready to cater to any level of shotgun proficiency. We provide reasonably priced one-on-one or group lessons that can be tailored to your needs. Additionally, we offer a comprehensive selection of premium shotguns available for rent, ensuring you have the right equipment for your experience.
Garland Mountain Grill
Beyond providing an exhilarating shooting adventure, we recognize that exceptional food and drink are integral to crafting an unforgettable day. Before or after your shooting session, take the opportunity to relax and indulge in a delightful meal at our grill. Our culinary offerings include delicious food and a wide array of beverages, all served on expansive decks that provide breathtaking views of the Blue Ridge Mountains.
Our welcoming staff is dedicated to ensuring your experience is nothing short of memorable, and our ultimate aim is to have you returning for more. Discover the world of sporting clays and embark on an adventure that is simply too extraordinary to pass up. Join us, and let's make lasting memories together!
What will your experience look like?
Upon your arrival, our welcoming mountain-view lodge will be your first stop, where you'll be greeted by one of our friendly hosts. Your host will guide you through the available shooting options and assist you in getting the necessary gear, which may include a rental gun, ammunition, eye and ear protection. Any questions you may have will be promptly addressed by your host.
You'll then be provided with a four-passenger Utility-Terrain Vehicle, which you'll load up with your equipment before heading to one of our stunning mountain-view courses. If this is your first visit to Garland Mountain, your host will accompany you to the initial course station, ensuring you're well-versed in safety protocols and rules. They will also demonstrate how to operate our target launching system and offer valuable tips for effectively hitting those clay targets.
Your group will take turns aiming at clay targets soaring through the skyline. Spread throughout the course, you'll find 14 shooting stations, each offering a unique target presentation. Typically, guests spend approximately 2 to 2.5 hours on the course, honing their shooting skills and enjoying the thrill of the sport.
After a rewarding session of target smashing, you'll return to the lodge, where our mountain-view grill awaits. Our culinary offerings will tantalize your taste buds, elevating your already memorable experience. To cap off your visit, we also feature a full bar where you can unwind and savor your achievements after a thrilling day of shooting.