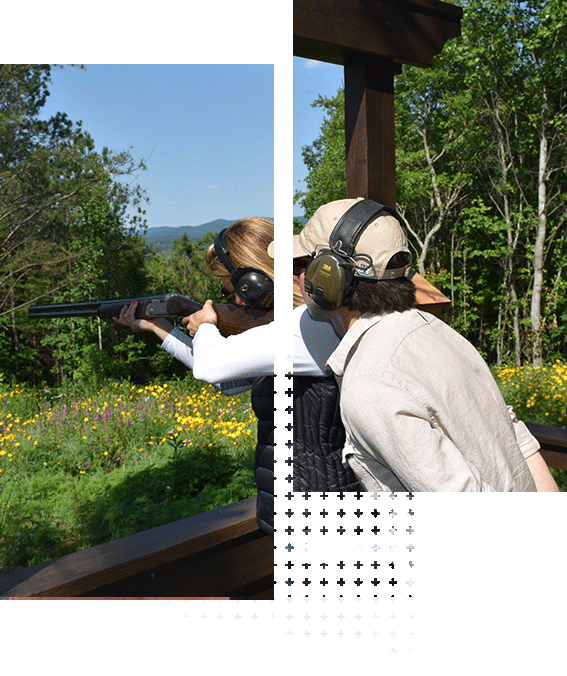 Our introductory lesson will focus on shotgun safety and the basic shooting techniques required to successfully smash clays. This lesson is meant to be fun! Our goal is to simply introduce you to an exciting sport while simultaneously improving your skill level. An introductory lesson will be sure to shorten the learning curve and have you successfully smashing clays in no time!
Lessons are perfect for:
Individuals: Our instructor will provide one-on-one instruction. You will be our instructor's sole focus, ensuring maximum time spent improving your skills set.
Families: Sporting clays provide the perfect environment for quality bonding time for the entire family. So, this weekend, grab the kids and spouse and head to Garland Mountain for an exciting day of smashing clays! When you're finished smashing clays, join us at our mountain-view grill for an amazing family meal. Once your family has experienced this exciting and competitive hobby, you'll be hooked! 
Groups: You'll learn the basics of this exciting sport in a group setting. You'll also have time for one-on-one instruction when it's your time to enter the shooting window. It's a great team building experience and a way to bond with others. When you're done tracking down and smashing clays, don't forget to visit our amazing mountain-view grill for delicious food and drink.
For Lesson Costs See Our Pricing Page 
Instructor Testimonials:
"Today was our 3rd time shooting with Roy at Garland Mountain and can't recommend him enough. All three times we went with family and friends, some of whom had never fired any type of firearm before. We've also had 4 different young adults (9-14 age) with us on the various trips and none of them had shot before. I would not hesitate at all to recommend Roy to anyone with little or no firearm experience as he does a great job of making everyone comfortable around the firearms."
Nick Mullins
"We love Roy! I brought up 7 boys yesterday for my sons 18th birthday. Most have them have never shot before. Roy was so patient and knowledgeable. I'm so thankful for the experience he provided us with. It's a memory we will always remember. I highly recommend Roy!"
Kelly Jones
Best experience I have had shooting clays! Amazing staff and instructors that help you learn the course before you set off. After shooting, I had an amazing meal. It's the country club of shooting clays.
Jamie Bekaert
First time shooting clays yesterday and had a blast! Our certified instructor Richard Wright did a fantastic job walking us through everything we needed to know about the sport. Can't wait to get back out there to powder some more clays!
Walt Gay
We had 9 out to Garland Mtn yesterday and had a blast. Roy was especially helpful for a few of our party that had not shot a shotgun before. Safety is critical and was emphasized several times. Thanks Roy for your expert help and steady composure! We'll be back!
Steve Dotseth
.
Yes, if you are an inexperienced shooter or perhaps have never shot a round of sporting clays and would like to learn how to begin on the right foot, you should attend.
Even if you are an experienced sporting clays shooter but want to improve your basic technique or want to learn how to identify certain target presentations, you too should attend.
Duration: 90 minutes.
Shotgun with open chokes (cylinder, skeet or improved cylinder please)
Don't have a Shotgun? Let us know what type of shotgun you would like to rent (12 gauge -20 gauge-28 gauge)
Ammo can be purchased on site or bring your own – 50 to 100 rounds of "low recoil" ammo if you are a new shooter…experienced shooters should bring their favorite loads (7 1/2 or below).
Eye and Ear protection (this is a MUST)
Pad and pencil for notes
A small cooler with drinks. We have small coolers available for use if purchasing drinks from our pro-shop.
If you are under 18 years of age, you MUST bring a parent or legal guardian
To sign up please call:
770-345-0303
OR
EMAIL US HERE
Click Here for intermediate -to- advanced level clinics.