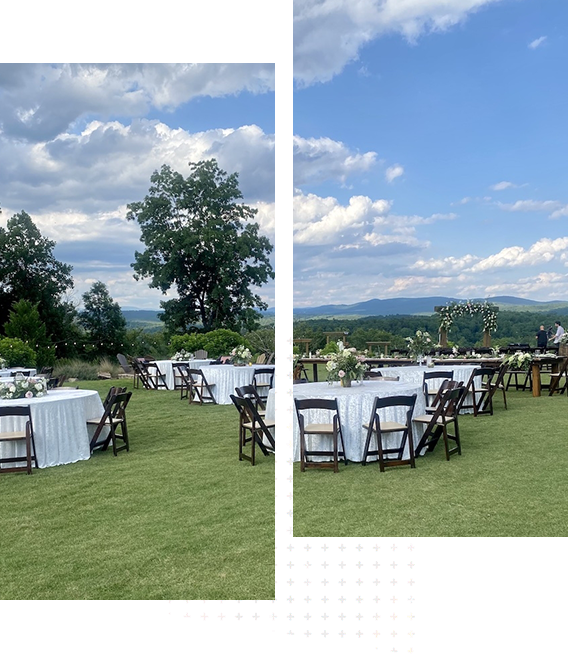 Garland Mountain
Host your BIG day at Garland Mountain!
Our expansive mountain views provide a stunning backdrop that will take your breath away. With our wedding packages, you gain complete access to the entire venue, giving you the freedom to tailor every aspect of your evening to your heart's desire, from dinner selections to beverage specials and décor.
We offer delicious event dinner menus for you to choose from, or you can collaborate with our chef to craft a personalized menu that is uniquely yours. At Garland Mountain, your wedding day will be a celebration of your individual style and taste, set against the backdrop of our picturesque mountain views and stunning rustic lodge.
How weddings work at Garland Mountain:
Garland Mountain operates as a sporting clay facility. Weddings are held outside of our Saturday close time of 5PM.
Once the business is closed at 5PM, our entire staff expertly transitions the facility into a wedding venue.
We setup all tables and chairs within the lodge, on porches, and lawn area, to your desired configuration. If a tent is requested for the lawn, it will be setup the day prior to the wedding
Setup of decorations and floral arrangements will be the responsibility of your wedding party and or coordinator.
Our average conversion time from sporting clay facility to wedding venue ranges between 1-1.5 hours.
Guests typically arrive between 6:30PM – 7PM.
Garland Mountain primarily operates as a sporting clay facility, which means that our wedding events must be scheduled outside of our core business hours. On Saturdays, setup for weddings can commence at 5 PM. We understand that these limited setup times may pose some constraints. However, in exchange for these considerations, we offer a top-notch facility, a dedicated staff, and exceptional food service at significantly reduced rates compared to traditional wedding venues.
Our wedding packages start at a minimum of $7,500.00, with an additional 20% staff gratuity. This comprehensive package includes full access to our venue, both indoors and outdoors, as well as food and beverage expenses. Typically, this package accommodates up to 70 guests. The cost for each additional guest varies based on your chosen menu, generally falling within the range of $50 to $70 per guest.
For the selected Saturday of your choice, wedding parties can access our facility starting at 5 PM, with celebrations continuing until 10 PM. If you wish to extend the festivities beyond 10 PM, we charge an additional fee of $750 for each extra hour.